HOW TO CHOOSE THE RIGHT RUG FOR YOUR LIVING ROOM.
Posted by WAHI on Nov 10th 2023
HOW TO CHOOSE THE RIGHT RUG FOR YOUR LIVING ROOM.
Nov 10, 2023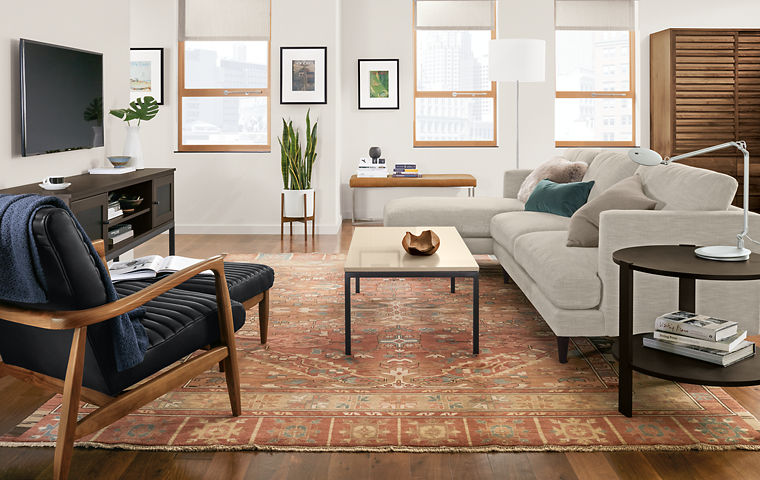 There are plenty of reasons why it's a good idea to have an area rug in a living room.
Area rugs provide comfort, warmth, cushion and also artistic value to a room's design. They can act as artwork on the floor, and can create a frame in which to place furniture and define spaces.
Area rugs are often advantageous over wall-to-wall carpeting because they are easier to clean, and if you get tired of the look it's easier to switch out an area rug and replace it with something new. Call us we will be happy to help you with the replacement.
When decorating a room, we suggest to start with choosing your rug.
A rug provides the perfect foundation of color, texture and style on which to build your room's design. It defines the space.
Size, texture, color, pattern, and shape are all variables to consider, along with the persistent doubt of whether it will complement or clash with existing furniture. One wrong choice can throw an entire room off-balance.
Consider the function
Before your search even begins, start by thinking about your lifestyle. Ask yourself: How do you envision living in this room? Is the priority glamour or comfort? Something that will hide wear and tear (like wine spills)? Do you like to entertain?
Think about how you plan to spend your time in the room, and that will dictate what design you should look for. Let your lifestyle guide you.
-FIRST START WITH A FLOOR PLAN
ALL LEGS ON THE RUG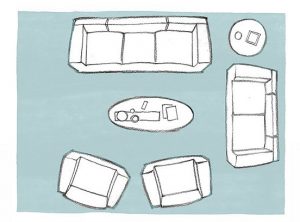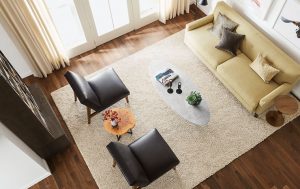 For large rooms with furniture floating in the center rugs should be big enough so that the furniture fits completely on top without feeling cramped. Standard sizes are : 9x12 / 10x14
FRONT LEGS ON THE RUG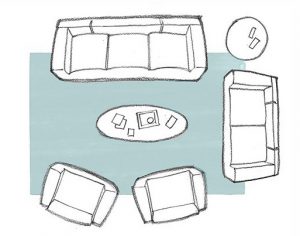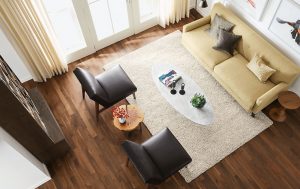 When furniture is against the wall, aim to have the front two legs of all the furniture on the rug. Standard sizes are: 6x9 / 8x10
COFFEE TABLE ON THE RUG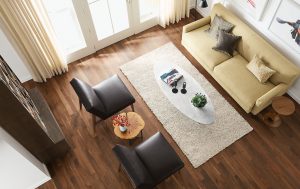 If you have small living room your rugs can be used just under the coffee table or to define specific seating areas. Standard sizes are: 4x6 / 5x8
TIPS:
Have you fallen in love with a rug that's too small for your space or would be budget-busting in the right size? Layer it on top of a larger, less expensive rug!
Rugs typically come in standard sizes, up to a maximum of about 10' x 14' or so. If your room is significantly larger than that, consider dividing it into separate seating areas, each with its own rug. Or place two matching rugs side-by-side to achieve the size you need.
Make sure that your rug has at least 6-10″ on either side of the sofa. This is crucial! If the width of the rug is the same as the width of the sofa then you are in trouble – it will look too small and create a bowling alley effect.
-MAKE THE MATERIAL WORK FOR YOU
Foot traffic is a key element when considering rug texture. If this is a heavily used room, like a living room, or if pets are involved, you might want to consider all wool or over-dyed and distressed rugs.
Over-dyed and distressed rugs use a cycle of dyeing, washing or distressing to achieve a one-of-a-kind finish. During this artisan process, colors blend and textures soften for a vintage feel that's good for moderate foot traffic.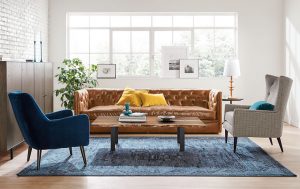 For the old-school living rooms that are best observed and not touched, silk or antique rugs are a perfect choice.
-PICK YOUR PATTERN
Choosing the right size is only part of the challenge, though – you also need to know how to choose the right color and pattern.
A neutral rug forms a solid foundation when you want to layer on rich textures, patterns or colors. Think of it as the canvas for the rest of your room.
But If your furniture is solid color or neutral, you should try patterned rugs. For foolproof color coordination, match the secondary color in the rug to your furniture.
-KEEP IT IN PLACE
Why Use a Rug Pad?
Along with preventing your rug from slipping all over the place, a pad will add another layer of comfort and help protect it for years.